Weekly Game Media Report
11/Apr - 15/Apr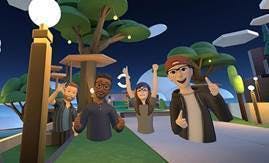 2022-04-18
[ Key News ]
1.      Sony and Lego invest US$1 billion each in Epic Games' metaverse development
Epic Valued at US$31.5 B
Epic Games has recieved funding totalling US$2 B to assist in its development of its metaverse
Existing investor Sony Group Corporation was involved, as was Kirkbi, the family-owned company behind The Lego Group
These two companies are each investing US$1 billion in Epic Games
Despite being no longer able to operate Fortnite on the App Store or Google Play, Epic Games still maintains a strong presence on both platforms with its other titles, such as Rocket League Sideswipe, which surpassed 20 million downloads within 40 days
2.      data.ai reveals the top mobile publishers in 2021
17 CHINESE COMPANIES LISTED IN TOP 52 TOP MOBILE PUBLISHERS
 Tencent took first place, a position that the firm has held for 5 consecutive years due to the strong performance of its flagship title, Honor of Kings
In second place is NetEase, which has also held its place for 5 consecutive years. Data.ai has stated that the firm has held its place due to the success of its MMORPG Fantasy Westward Journey
China had the largest number of publishers on the list with 17 for the very first time, followed by the US with 15
Bytedance ranked 7th and miHoYO ranked 14th , Lilith ranked 17th and 37 games ranked 25th
Chinese publishers are focusing on international markets starts from 2021 and started building its own international Brands as well
CMGE's 2022 goal is 50%+ revenue should come from oversea markets
Netmarble Maintains Top 10 Mobile Publisher Revenue for 7 Consecutive Years and is the only Korean company maintaining the top 10 in the global mobile market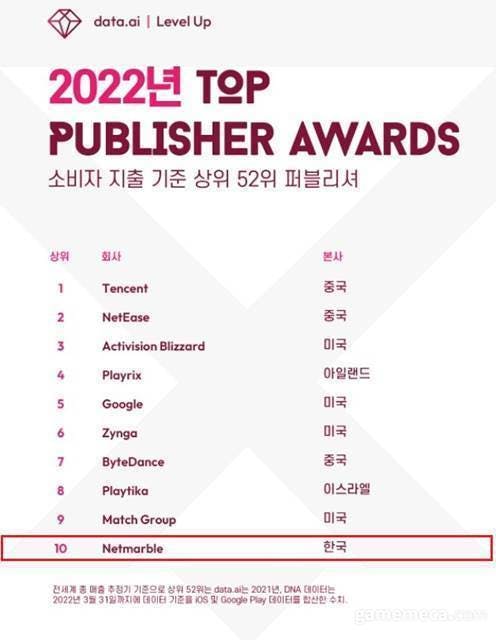 3.     Tencent shuts down Chinese gamers access to overseas games
NO MORE ACCESS
 Tencent is shutting down one of its services that allows China-based gamers access to overseas platforms to play online games
The app in question is one that allows users to improve their internet speed to access games from overseas, as local internet speeds often do not provide a stable enough connection to play
Incoming update to network acceleration app will halt users playing foreign games and accessing foreign online servers
on May 31 2022 Tencent will provide an update to its mobile and desktop app that will mean the app can only support games that have approval to operate in China
After the update, users will no longer be able to access international games via the app
Insight:
China's games licence freeze( 9 months in total, ended in last week) was a contributing factor to the closure of 14,000 studios last year
Tencent has stated in the past that it will be "fully compliant" with all regulations in the country
Last year, Chinese regulators suspended Tencent from launching or updating apps from November 25 as part of a "temporary administrative guidance", before reinstating these capabilities on December 24
 4.     Saudi Wealth Fund Invests Over US$1B In Gaming Firms
TAKING THE NEXT LEVEL OF GAMING INVESTMENTS
The Public Investment Fund, Saudi Arabia's sovereign wealth fund, is taking its investments in video game companies to the next level with the purchase of a combined holding worth more than US$1 billion in gaming firms Capcom and Nexon
Saudi Arabia is investing massively in Gaming; SNK is now almost entirely owned (96%) by the Saudi crown prince's foundation(EGDC)
The fund purchased a stake in Capcom, which worth roughly US$332 million; Nexon is worth about $883 million
The growing list of gaming related investments
The fund has 5.6 million Take-Two Interactive shares worth roughly US$996 million
It has 14.2 million Electronic Arts shares worth US$1.9 billion
The fund has 37.9 million Activision Blizzard shares worth more than US$3 billion
 5.     Lost Ark' Smilegate RPG 2021 annual sales growth by 486%
ALMOST 500% GROWTH YOY
 It was announced that the 2021 sales of Smilegate RPG, which develops and services Lost Ark, increased by 486% compared to the previous year
According to the Smilegate Group audit report published on the 13th, Smilegate RPG recorded KRW 489.8 billion in sales in 2021. This is nearly five times higher than the 83.5 billion won in 2020. The increase in sales was also reflected in operating profit. The operating profit of Smilegate RPG in 2021 was KRW 305.5 billion, up 4460% from KRW 6.7 billion in 2020
This increase in sales is a result of the fact that Lost Ark has reached its second heyday in Korea, showing good service, and also reflecting the results of overseas service contracts. In particular, the Steam service, which started this year, is showing good results, recording the second-largest concurrent users on Steam
As a result, Smilegate Group has risen to a position where it can threaten NCsoft, Nexon, and Netmarble, collectively known as 3N. Considering 3N's annual sales is around 2 trillion won in 2021, even though it is still one step down it is a big point to have a source of rapid growth
6.     Netmarble's new pipeline – RF project
NETMARBLE'S NEW IP
Netmarble released the new 'RF' IP, which it acquired in September 2020, through NTP in January.
Netmarble aims to create a wonderful world that would be a new nostalgia that they encountered for the first time while conveying the sensibility of the original to users with nostalgia for RF in the past.
Players can reinterpret elements of the previous work, such as riding a giant robot armored personnel carrier and fighting with heavy weapons, and summoning the super-giant summoned Animus to fight with them, giving them a strong and new experience while feeling nostalgic for the RF of the past.
The exact release date of the RF project has not been decided, and it will be implemented as a PC-mobile cross-platform MMORPG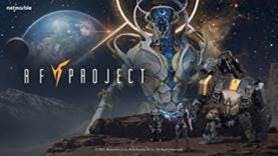 7.      South Korean game market welcomed its first VN made MMORPG
FRIST VN MADE RPG PUBLISHED IN KOREAN MARKET
The new MMORPG mobile game called "Wulin Master" opened for registration in South Korea, became the first RPG game officially released in the Korean market representing a Vietnamese company
For players, "Wulin Master" also has a Chinese name: "Legend of the Nine Suns", which was originally launched in Vietnam and Cambodia in September 2019, and has been at the top of the iOS best-selling list for several months, with a best score of 26
GOSU Online established in 2012, has office in Hanoi, Ho Chi Minh and Hue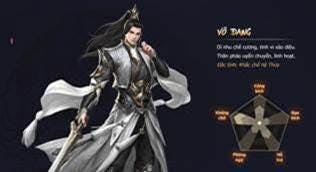 8.      Yulgang - Wemix onboarding MMORPG P2E game's success following Mir 4
YULGANG IP
'Yulgang Global' drew attention by recording 5 million pre-registrations before release based on the IP awareness of the cartoon 'Yulgang'. Within a week of its release, the game surpassed 90 servers and approached 100, making it a new Wemix trending game.
Within a week of its release, the game was strong in Southeast Asian countries such as Thailand and the Philippines, and entered the top 10 in local Google market sales.
With the success of Wemix onboarding games, the market's expectations for new titles to be released are also rising. WeMade announced that it is targeting 100 types of Wemix onboarding contracts this year.
The market evaluated WeMade as leading the P&E game board with the WeMix platform, and predicted positively for earnings improvement this year. This is because it is expected to increase platform commission revenue as well as the success of its own games.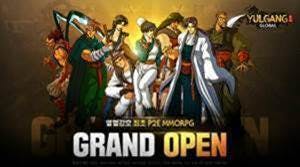 9.     Elon Musk makes US$41b bid to buy Twitter 
IF OFFER WAS REFUSED, ELON MUSK WILL RECONSIDER HIS POSITION IN SHAREHOLDER
Elon Musk has offered to acquire Twitter for nearly US$41 billion
The development comes after Musk acquired a 9.2% stake in Twitter to become one of the largest shareholders in the firm
Following the acquisition of the stake, Musk was supposed to join Twitter's board. However, Musk decided against it
[ Market Report ]
10.  Sensor Tower: Mobile games spending continued to fall by 6.3% to US$7 billion in March 2022
TENCENT ON TOP AGAIN
For the second month running, Honor of Kings was the highest grossing mobile game worldwide last month, according to Sensor Tower
Tencent's MOBA generated approximately US$272.4 million in player spending, an increase of 5.8% YoY and a rise of 21% over the previous month
Overall, last month total global player spending across the App Store and Google Play reached $7 billion, a decrease of 6.3% YoY
The surge in player spending was largely caused by the impact that COVID-19 had worldwide, with many now having more time, and in some cases income, to dedicate to mobile games
However, as many countries have now started to lift the majority of restrictions in place, consumer spending has continued to fall this year
Despite this, mobile games revenue is still higher than pre-pandemic levels, indicating that for many the new mobile game habits have continued despite the easing of restrictions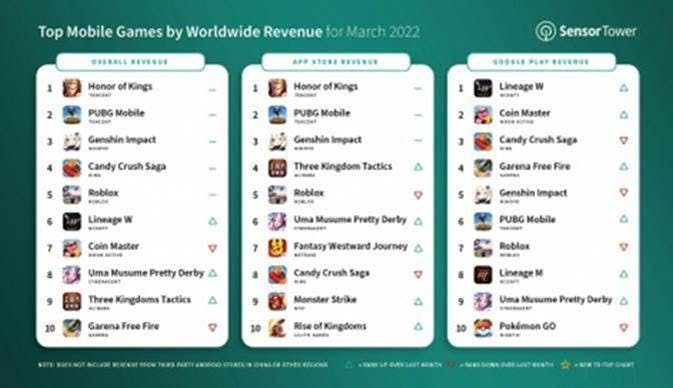 [ Metaverse & NFT Games ]
11. Mark Zuckerberg says Meta will test monetization for Horizon Worlds
TESTING TWO NEW TOOL SO THE CREATORS CAN START EARNING MONEY
Meta announced the company is testing monetization for the Horizon Worlds virtual reality spaces so creators can start earning money
The company is beginning to test two new tools that will enable creators to experiment with different ways to monetize what they're building in Horizon Worlds, which is part of Meta's plans to build the metaverse
Meta is beginning to roll out a test with a handful of creators that will let them sell virtual items and effects within their worlds. For example, someone could make and sell attachable accessories for a fashion world or offer paid access to a new part of a world
Purchasing items in Horizon Worlds is available to people 18+ in the US and Canada where Horizon Worlds is currently available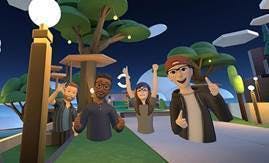 12.  Animoca Brands to buy French blockchain game studio
THE DEVELOPER OF BLOCK CHAIN GAME: LIFE BEYOND
Animoca Brands, a Hong Kong-based blockchain gaming firm, plans to acquire Darewise Entertainment, the France-based developer of blockchain game Life Beyond
While the size of the deal remains undisclosed, it will speed up game development and combine high-budget game production with blockchain, non-fungible tokens (NFTs), and play-to-earn elements
Life Beyond, a blockchain-based multiplayer game, will be free to play, and the company is planning free drops of NFTs needed to join the game
The acquisition follows Animoca Brands' recent acquisition of France-based Racing game studio Eden Games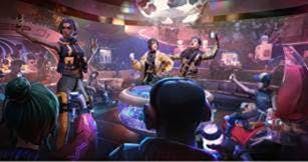 13.  China's financial associations propose regulations for NFT trading
PREVENT MONEY LAUNDERING AND OTHER ILLEGAL FINANCIAL ACTIVITY
China's banking association released a statement urging member companies to monitor NFT trading in the country
In a joint statment, China's banking, securities, and internet financial associations said, "NFTs, or the tokens used to prove the ownership and authenticity of an item, must not be used for securitisation or transacted in cryptocurrencies
The association further urged the companies to not engage in NFT investment in a direct or indirect way
The statement added that said the decision to monitor NFT trading was made to prevent money laundering and other illegal financial activity.
Furthermore, the organisations said bonds, insurance, securities, precious metals, and other financial assets should not be included in the underlying assets of NFTs
The organisations in the statement do recognise the importance of NFTs that can drive the digital economy
Insight:
In March 2022, Tencent's WeChat platform blocked over 10 public WeChat accounts that were involved in NFT trading. The firm claimed that the decision was made to curb speculation and second-hand NFT trading through WeChat accounts
In China, NFT trading takes place via legal tender, yuan and NFT marketplaces including OpenSea , Rarible, and SuperRare are not permitted
Initial coin offerings, crypto transactions, and crypto mining have all been banned in the country
With the new proposed restrictions on NFT trading, the country might completely distance itself from the Web3 wave