Weekly Game Media Report
13/Jun - 17/Jun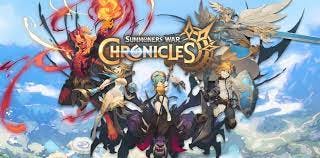 2022-06-20
[ Key News ]
1.     Tencent's Lightspeed Studios aims to build the Lightspeed Universe in major expansion
LIGHTSPEED MARCHING TO THE GLOBAL GAME MARKET
Tencent's Lightspeed Studios has unveiled its vision for the next decade, the Lightspeed universe
The Lightspeed Universe is a vision to create an ecosystem that connects players and developers around the world based on great stories, great gameplay and next-generation technology
Lightspeed is opening new offices including in China, Singapore, United States (Los Angeles, Palo Alto, Seattle), Canada (Toronto, Montreal, Vancouver), United Kingdom, France, New Zealand, Japan, South Korea, and United Arab Emirates (Dubai)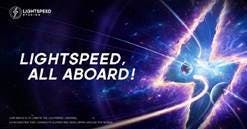 2.     Shopee layoffs hit payments, food delivery, Southeast Asia and LatAm teams 
SO FAR THIS YEAR, TECH COMPANIES WORLDWIDE HAVE LAID OFF A TOTAL OF 35,000 WORKERS
Shopee will lay off some employees in its food delivery ShopeeFood and online payment ShopeePay teams in Southeast Asia
It will also cut staff in Mexico, Argentina and Chile, as well as a cross-border team supporting the Spanish market
Shopee will close its early-stage pilot in Spain, after announcing plans to launch online sales in the country last October
It was the second pullback that month in an overseas expansion drive after Shopee exited from France
Insight:
Many tech companies that expanded during the pandemic are now pulling back
So far this year, tech companies worldwide have laid off a total of 35,000 workers
The decline in the tech-heavy stock index is a barometer of the tech sector, meaning the unbridled growth of the past few years is contracting sharply as well
Tesla laid off its Singapore country manager Christopher Bousigues after chief executive Elon Musk warned he could cut 10% of jobs worldwide due to fears of an upcoming recession
Cryptocurrency exchange Crypto.com cut 260 employees or 5 per cent of its corporate workforce as the digital currency market slumped
Chinese video platform Bilibili to cut 20% of staff
Staff reduction is happening at various departments in Tencent and Alibaba
 
3.     China Gaming Genre Trend: Matching 3 + SLG / Matching 3 + RPG 
NEW GAME GENRE TREND IN CHINA
Starting from 37 games's Puzzles & Survival", some Chinese gaming companies have begun to turn their attention to match-3+SLG and match-3+RPG
FunPlus's 《Call of Anita》is Matching 3 + RPG, once ranked Top 10 grossing mobile games in 16 countries
The target audience of this new genre will be players who interested in SIM games & dressing up games
In 2020, the overall growth of matching 3 games was 18%, most of the growth came from match 3 + X-type gameplay
The users of Matching 3 + hard core game genres are among 25 – 45 years old who has higher spending habits on games, 50% male % 50% female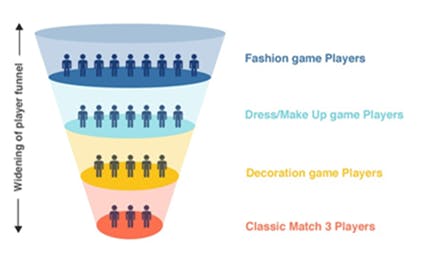 4.     Android games struggle to retain players 
A NEW STUDY REVEALED THAT 75.4% OF ANDROID PLAYERS UNINSTALL GAMING APPS WITHIN 30 DAYS
57% of Android users uninstall the game on the same day they download it, and 75.4% do so after 30 days
The report also suggests that smaller apps struggle to retain users on Android devices, while larger apps struggle on Apple devices
The analysis states that iOS games maintain a consistent churn rate until they exceed one million installs
Android users exceed iOS for push notifications
Almost a third of gaming app businesses may close due to new IDFA regulations, says Bango
5.     Nexon eyes a multimedia western expansion for its biggest franchises 
TO TRANSLATE MAPLESTORY AND DUNGEON & FIGHTER BEYOND GAMES
Japanese publisher Nexon is seeking to reach western audiences with a global expansion
Following acquisition of a minority stake in AGBO for US$400 million earlier this year, and the companies are now in conversation about numerous IPs crossing media formats
Nexon is also exploring with AGBO the potential of turning the latter's movies in video games
6.     Game export amount was 11 trillion won in 2021 in Korea, accounting for 69.5% of the total content industry 
GAME REVENUE ACCOUNTING FOR 15% OF TOTAL CONTENT INDUSTRY
Games played a leading role in driving exports of the Korean content industry
Game exports last year amounted to $9.435 billion (approximately 1,889.5 billion Korean Won), accounting for 69.5 of the total content industry exports - It is analyzed that major games that entered the global market, such as Lineage W and Mir 4, drove export performance
The total game revenue last year was 20,617.643 billion won. This is an increase of 9.2% from the previous year, accounting for 15.1% of the total content industry
7.     Com2uS new MMORPG game 'Summoners War: Chronicle'
MMORPG BASED ON SUMMONERS WAR
Com2uS's new work <Summoners War: Chronicle> (hereafter Chronicle) is scheduled to be released in Korea in July. <Chronicle> is an MMORPG that Com2uS has been forging for a long time
Chronicle is a 'hybrid MMORPG' that adds 'strategy' through combination to 'collection' which is the core content of the original IP <Summoners War>
Since its launch in 2014, <Summoners War> is a global steady seller that ranked first in game sales in 90 countries and TOP10 in 140 countries. It achieved 1 trillion won in sales for the first time in a Korean mobile game, and set a new record of 8 billion won in global daily sales in April, showing off its IP power
After successfully releasing <Chronicle> in Korea, Com2uS will introduce it to the world as a P2O game based on the C2X ecosystem in the second half of this year. It plans to target the global market by applying a P2O system in which users directly own the results obtained through game play
The P2O games which contains the philosophy of Web3 of decentralization and fair distribution, was proven through the case of <Summoners War: Hundred Years' War>, which joined C2X for the first time in April. <Hundred Years' War> proved that the DAU has grown by 400% since joining C2X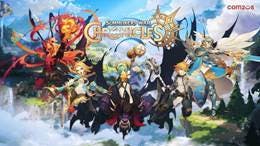 [ Market Report ]
8.     Sensor Tower: 5-Year Market Forecast: App Spending Will Reach US$233 Billion by 2026 
APPS WILL OUTPACE GAMES IN MOBILE SPENDING BY 2026
By 2026, global consumer spending on premium apps, in-app purchases, and subscriptions will reach US$233 billion across Apple's App Store and Google Play. This is 77% higher than the $132 billion consumers spent in 2021
In-App Spending Will Grow at 12% CAGR
Non-Game Apps Will Represent the Majority of iOS Spending by 2026
By 2026, mobile games will represent 43% of revenue share on that marketplace, down 23 points from 2020. On Google Play, mobile games will also see a downward trend over the next five years
While North America will lead in consumer spending growth over the next five years, with revenue growing 113% in that region, Asia will see the most growth in app adoption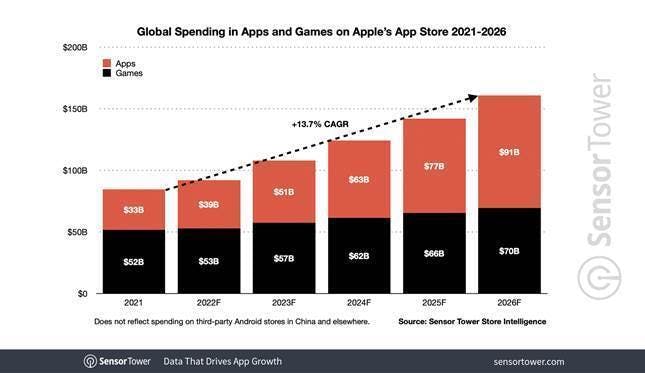 9.     Chinese games in Japanese market revenue ranking in May: NetEase's Knives Out returned to #1
JAPANESE MARKET REPORT IN MAY – CHINA PUBLISHERS & THEIR GAMES
Netease & 37 games ranked Top 1 and 2 publishers in revenue in Japanese Market, May' 22
Bytedance has risen by 7 places, thanks to the new game Yggdra Resonance
Genshin Impact ranked #3 on the Top Grossing list in May
Top grossing Games mostly are with waifu artstyles
Chinese's SLG games marching into the Japanese market ( Puzzle & Survival, Three kingdoms Tactics, Three Kingdoms Fantasy Land)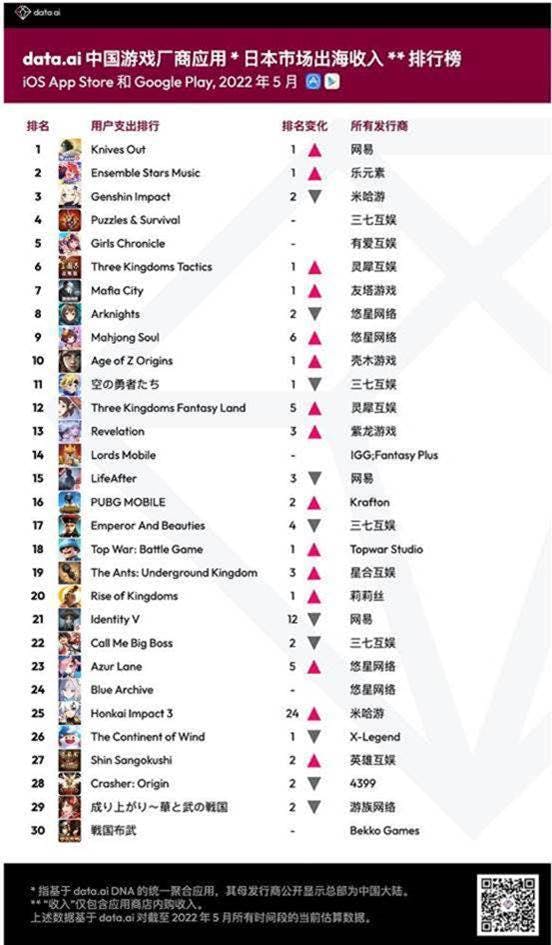 10. China CNG Report: 2022 China gaming Companies during covid lockdown
CHINA GAMEING INDUSTRY SUFFERED DURING LOCK DOWN
During the epidemic in 2022, the domestic game market showed a downward trend, especially in March and April when Shanghai was in lockdown
China game market Revenue in Mar & Apr' 22: $US3.3B and US$3.4B respectively, a YoY decrease of 9% and 3.4%
Like sales revenue, the number of gamers in the Chinese game market also decreased
The number of gamers in China decreased by 0.04% YoY in March to 666.24 million
In April, the number fell further to 665.94 million, down 0.01% YoY
Combined with sales revenue, users' willingness to consume has dropped significantly
67% of Chinese gaming companies experienced profit decrease in Q1' 22
50% of game projects have been effected during lockdown working from home
70% of game revenue of products have experienced decreased during Mar & Apr' 22
Game licensing banned played a major negative part in the China game market
At present, many big companies have been reducing costs and increasing efficiency by laying off staff and restructure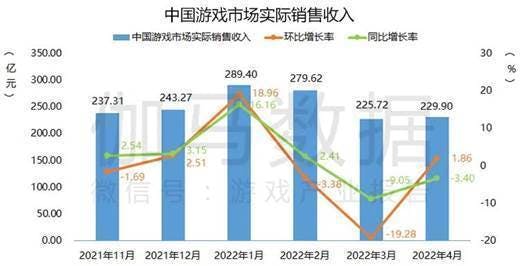 [ Metaverse & NFT Games ]
11. McKinsey & Co.: Metaverse could reach US$5 trillion in value by 2030 
GAMING WILL REACH US$125B IN 2030
 McKinsey & Co.'s new research shows the metaverse could grow up to US$5 trillion in value by 2030
Ecommerce as the largest economic force (US$2.6 trillion), ahead of sectors such as virtual learning (US$270 billion), advertising (US$206 billion), and gaming (US$125 billion)
Venture capital, and private equity firms have invested more than US$120 billion in the metaverse this year—more than double the US$57 billion invested in all of last year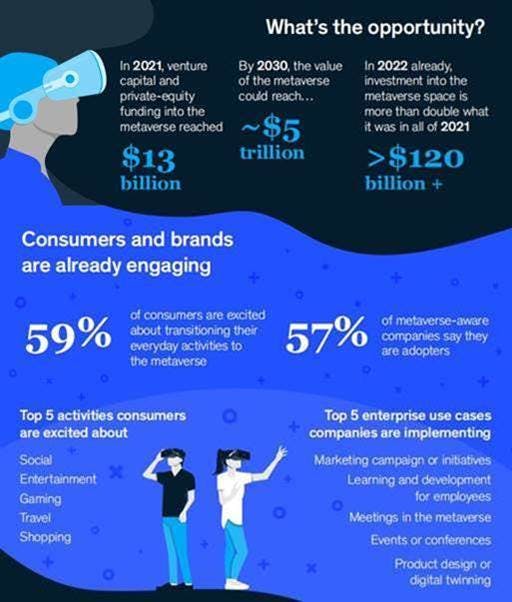 12. Hainan Guming Technology Company Limited A Subsidiary of the CMGE Launches Youyu NFT Platform
CMGE'S FIRST NFT PLATFORM WITH 80+ IP
Youyu Platform supported by "copyright chain ", the first public chain of the industry in the People's Republic of China, launched by the official copyright management departments which played the leading role, and certificate registration system for digital copyright
Youyu Art provides services ranging from legalized copyright authentication, storage, initial issue, and protection for digital artworks
Each transfer is subject to the payment of royalties to creators
The platform cooperates with copyright owners of more than 80 well-known IPs, including MashiMaro, Pleasant Goat and Big Big Wolf, Old Master Q, Legend of Sword and Fairy, Monopoly, Xuan uan Sword
With "Youyu art", CMGE has become one of the first companies to invest in the Web3 economy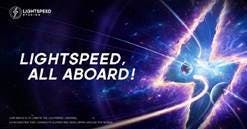 13. Google: only 16% of mobile gamers want NFT-based games
METAVERSE IS THE BIGGEST GAME TREND
Tellingly, only 16% of respondents have any intention of engaging with NFT-based games – a marginal decline from the current number of respondents who are current playing NFT games (19%)
Around 34% of mobile players discover new titles through in-game ads, but there is some dispute as to whether the mobile player base is willing to engage with ads
Metaverse is the top 1 game trend mobile players would like to interact with in the future
only 15% of respondents keen to interact with cross-platform gameplay.