Weekly Game Media Report
20/12- 24/12 2021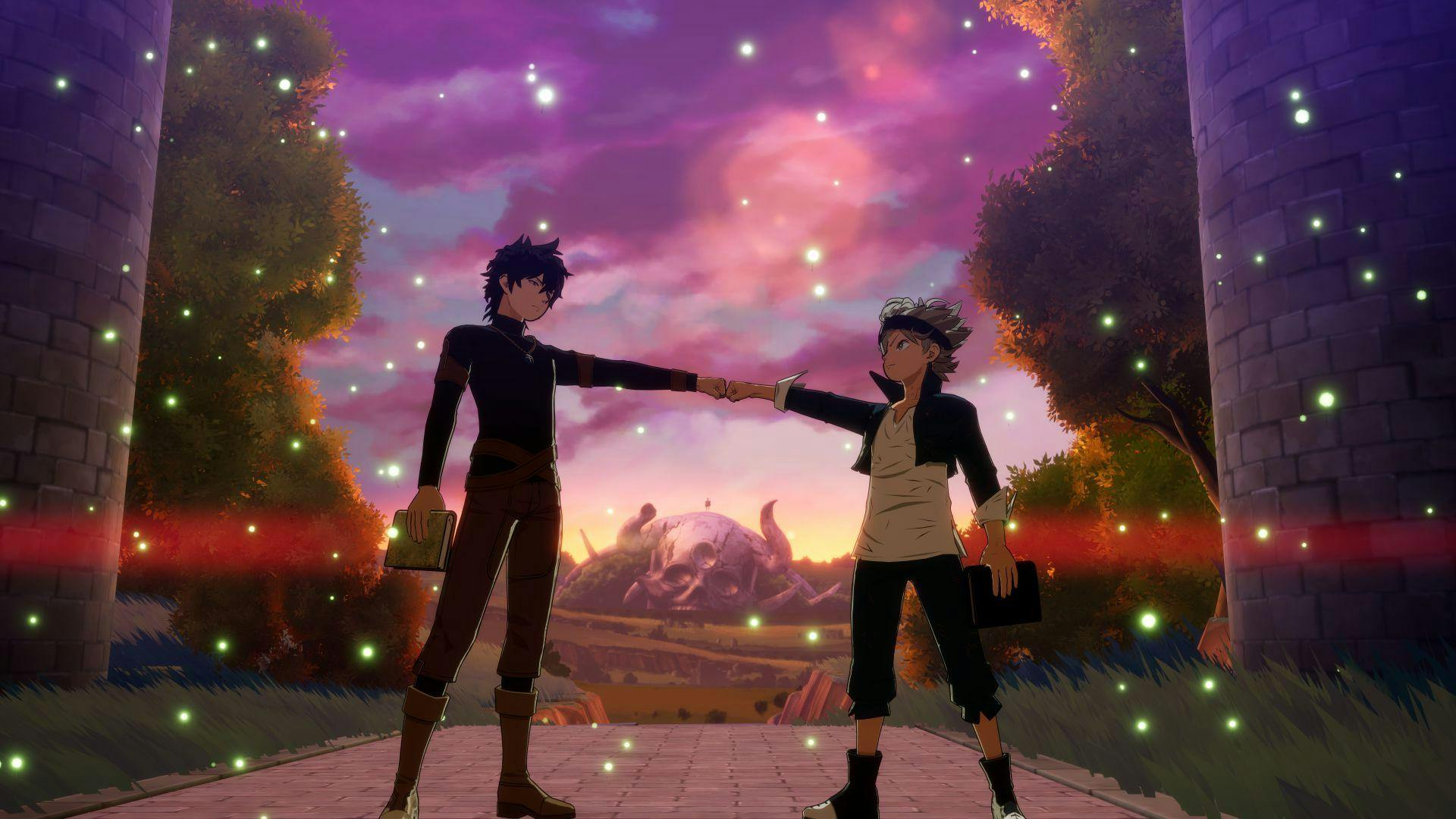 2021-12-27
[Important – Investment]
   Embracer Group buys Perfect World Entertainment for US$125M
Embracer Group has agreed to buy Perfect World Entertainment from China's Perfect World for US$125 million in cash and stock
Under the deal, Embracer will pick up Perfect World Publishing and Cryptic Studios, which together have 237 employees. The larger Chinese company will continue operating on its own
Under the deal, Sweden's Embracer Group is acquiring the studios in Redwood City, California (Perfect World Publishing) and Los Gatos, California (Cryptic Studios), as well as a quality assurance and localization office in Amsterdam
China's Perfect World has a market value of US$5.9 billion, while Embracer is valued at US$10 billion
In the past two quarters, Embracer Group has bought or announced the purchase of 17 other companies
Tencent acquires Back 4 Blood and Left 4 Dead dev Turtle Rock Studios
Tencent today announced it has acquired Slamfire Inc., the parent company of game developer Turtle Rock Studios. Turtle Rock is best known as the development studio behind Left 4 Dead, Evolve, and, most recently, Back 4 Blood
The change will also reportedly have no effect on Back 4 Blood's ongoing development
Rec Room social gaming platform raises US$145M at US$3.5B valuation
The funding round comes just nine months after the company raised US$100 million at a US$1.25 billion valuation, and it's another sign of the prospects for user-generated content and the game investment boom
Rec Room is positioning itself as a contender for the metaverse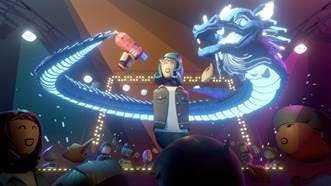 [Important – Financial]
Zynga and blockchain infrastructure startup Forte have teamed up to create blockchain games based on Zynga's gaming brands
The idea is to drive faster development and create more "economic opportunities for players in blockchain gaming
In this case, both Zynga and Forte are betting that gamers will come around. Forte recently raised $725 million to build blockchain game solutions
The games industry today is the largest form of entertainment globally — larger than film and music combined — entertaining nearly 3 billion players and generating overUS $180 billion in annual revenue
Tencent confirmed this week that nine of its apps, including QQ Music and WeCom, were reviewed by the Ministry of Industry and Information Technology (MIIT) and allowed to launch updates
The MIIT has also allowed Tencent to update several mobile game apps and has given them the green light to update too
The resumption comes three weeks after Chinese regulators suspended Tencent from updating its existing apps or launching new apps, as part of "temporary administrative guidance" directed at the company
The original restriction came after a yearlong campaign from the MIIT where it published lists of apps that had not complied with various data privacy and user rights laws. Nine Tencent apps had been on the list in the past year which prompted the restriction
30 billion won issued to Wemade Innovation, Netmarble, One Store, and the largest shareholder YJM Games
The issuance price of new shares is 7090 won (= $6), and the issued share are deposited with the Korea Securities Depository and will be deposited for one year
Action Square is the developer of 'Blade for kakao', which received the Korea Game Grand Prize for the first time in the history of mobile games
Action Square plans to launch the new blockchain P2E mobile game 'Blade: RE.'
WeMade had signed an MOU to onboard the game of Angel Games (CEO Park Ji-hoon) to the Wemix platform
Wemade is servicing the global market, including 'Mir 4', on the blockchain platform Wemix.
Wemade is collaborating with various companies to expand P&E (Play and Earn) game business with the goal of servicing 100 games using Wemix as the key currency by the end of next year
Founded in 2013, Angel Games is a developer of games such as 'Lord of Dice' and 'Hero Cantare'.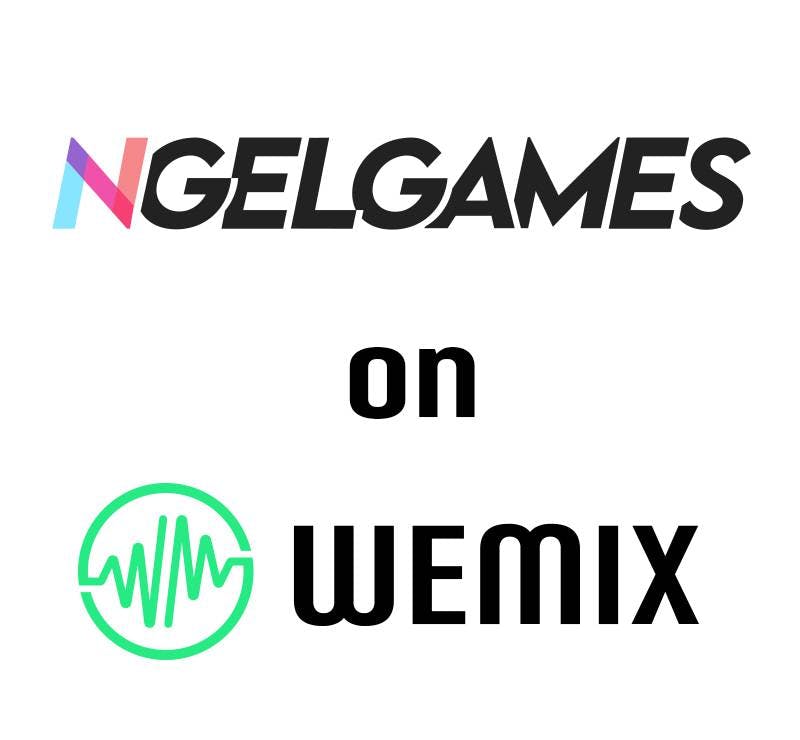 [Important – Market Report]
Sensor Tower: Nearly 1,000 App Publishers Earned US$1 Million for the First Time in 2021
906 app publishers reached the US$1 million earning milestone in 2021. That's almost twice the number from 2016 (475), though it's less than the 1,003 publishers who achieved it in 2020
This is likely due the result of consumer behavior continuing to normalize in the wake of an outsized year for new app downloads in 2020
Mobile game publishers still represent the largest contingent of publishers who reached the US$1 million milestone in 2021
However, Sensor Tower also reports that game publishers' share of this space has diminished overall in the last five years. In 2016, 63% of first-time million-dollar publishers were game publishers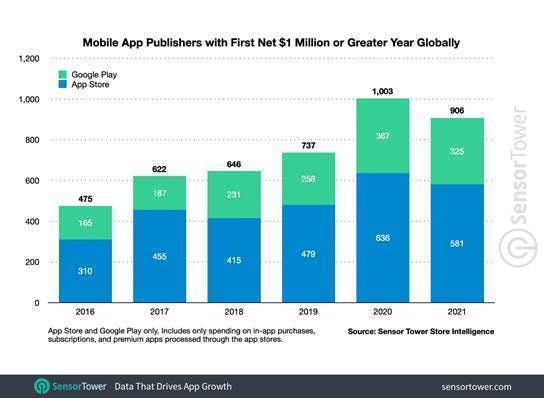 Sensor Tower: Record-Breaking Eight Mobile Games Surpass US$1 Billion in Global Player Spending During 2021
A record-breaking eight mobile games including PUBG Mobile from Tencent, Honor of Kings from Tencent, and Genshin Impact from miHoYo have generated more than US$1 billion globally from the App Store and Google Play so far in 2021
PUBG Mobile, localized as Game For Peace in China and Battlegrounds Mobile in India, and Honor of Kings rank as the No. 1 and No. 2 revenue generating mobile titles worldwide this year, accumulating US$2.8 billion each so far this year, up 9 percent and 14.7 percent year-over-year, respectively
Ranking at No. 3 this year is Genshin Impact, which has stormed to US$1.8 billion in revenue so far in 2021
To date, Genshin Impact has generated $2.4 billion worldwide from the App Store and Google Play
Roblox from Roblox Corporation ranks at No. 4 having picked up US$1.3 billion on mobile so far this year, a rise of 20.3% YoY, while Coin Master from Moon Active ranks No. 5, accumulating US$1.3 billion, a rise of 13.8% YoY
Garena Free Fire from Garena has shot past US$1.1 billion in worldwide player spending to reach No. 8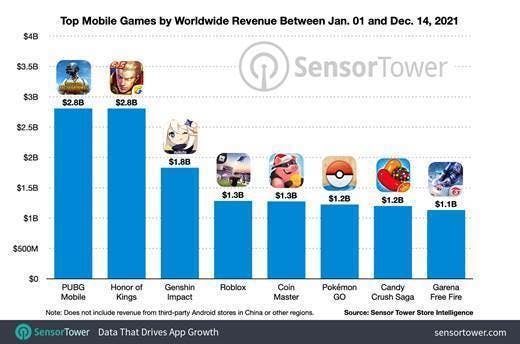 Newzoo: The games market in 2021 will generate total revenues of US$180.3 billion, up +1.4% over last 2020
Newzoo assumed that the games market in 2021 will generate total revenues of $180.3 billion, up +1.4% over last 2020
In 2021, mobile's performance has secured another growth year to US$93.2 Bbillion, account for over 50% of games industry spending in 2021
sports will generate more than US$1.0 billion this year
In 2021, the global number of active smartphones reached 4.6 billion
Game Live-streaming in 2021: +12.7% year on year to 747 million people in 2021
Hottest games market topics in 2021 has been the metaverse, which includes
The continued success of virtual concerts in Fortnite and other games
Roblox's IPO debut with a market cap of $40.6 billion;
Facebook's rebrand into Meta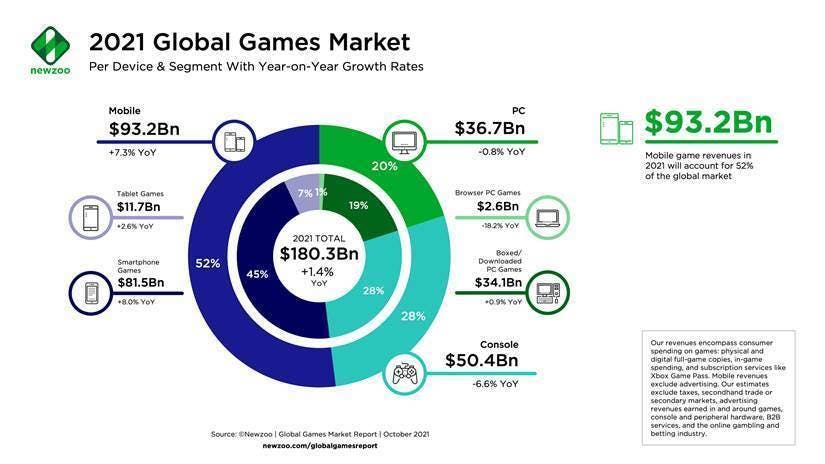 Niko: The Asia-10 region will have 940.9 million gamers generating US$41.8 billion in games revenue by 2025
Asia-10 PC and Mobile game revenue in 2021 is projected to reach $35.7 billion, up 6.2%
Asia-10 PC and Mobile game revenue will grow at a 5-year CAGR of 4.5%, reaching $41.8 billion in 202
Asia-10 PC and Mobile gamers in 2021 are projected to reach 714.9 million, up 12.1%
Asia-10 PC and Mobile gamers will increase at a 5-year CAGR of 8.1%, reaching 940.9 million in 2025
Indonesia, Thailand and Vietnam (ITV) are the fastest growing markets in SEA
India is the fastest growing in all of Asia-10 by far with a 5-year CAGR of 29.8%
Japan and Korea are the highest revenue markets, accounting for 80% of the Asia-10 regional market
Thailand became a billion-dollar market in 2020, with India, Indonesia, and Vietnam set to break the $1 billion mark by 2025
[Important – Game Product]
[Game News – SEA]
New Mobile Game 'Super Sus' Released in Indonesia!
Super Sus, a game developed by Giant Network have released in Indonesia market, which was published under PIProductions, for both AOS and IOS devices
The game was adapted from popular teamwork and betrayal game 'Among Us' but with much better 3D graphics
The current campaign of the game is collaborating with popular 'Squid Game' Korean TV Series, which makes the game as #1 Top Free Action game on Google Playstore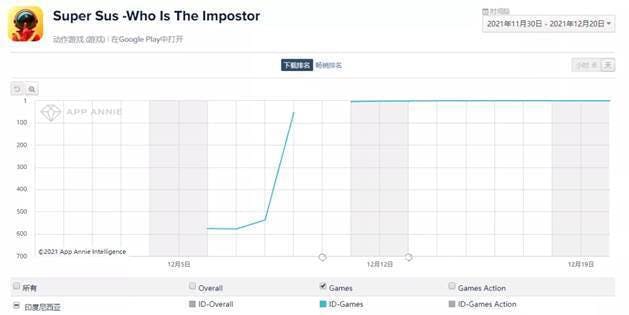 New Mobile MMORPG Game 'Mirage: Perfect Skyline' Open Pre-register in Indonesia
Mirage: Perfect Skyline is an Open World MMORPG for both AOS and IOS devices, the game will be published by EYOUGAME and have opened their pre-registration this week
With good 3D graphic style, this game has some features that almost similar to any MMORPG games, it has 8 job classes with their unique abilities, PvE dungeon, PvP Arena and Cross Server Guild War
During OBT, players will get VIP privilege for free after they logging in-game for 30 minutes and additional daily login bonuses
[Game News – TW/HK]
[Game News – JP/KR]