Weekly Game Media Report
30/May - 3/Jun
2022-06-06
[ Key News ]
1.     Diablo Immortal is out a day early on mobile, global PC release times confirmed
THE GAME WILL BE RELEASED IN SEA ON 22ND JUNE
Diablo Immortal, the latest entry in Blizzard Entertainment's long-running dungeon-crawling franchise, is available to download now. Originally set to launch Thursday, June 2, the game is available to download and play a day earlier via the Apple App Store and Google Play
Diablo Immortal will feature cross-play between PC and mobile platforms, as well as allow players to change character classes mid-campaign while maintaining their overall progression
The new ARPG game will be released for iOS, Android and PC in some Asia Pacific regions on June 22 PT including Hong Kong, Indonesia, Macao, Malaysia, The Philippines, Singapore, Taiwan, Thailand and Vietnam (PC only)
2.     Supercell acquires majority of Love & Pies maker Trailmix and invests US$60M more 
SUPERCELL'S FIRST INVESTMENT IN 2022
Supercell has acquired a majority stake in Trailmix, the maker of the Love & Pies mobile game, and it plans to invest a further US$60 million to supercharge its growth
In Trailmix, about half the leadership team is female, a reflection of the intended audience — 25-year-old to 45-year-old women
By getting the funding from Supercell, Trailmix will be able to control the user-acquisition spending itself, rather than surrending that function to a third party
lTrailmix launched Love & Pies in September and the game has seen more than two million downloads
Supercell's last investment was in Nov' 21, as lead investor for mobile game maker HypeHype
 3.     TikTok parent eyes comeback in India
REENTER INDIA VIA A NEW PARTNERSHIP
 ByteDance is in talks with Mumbai-based real estate player Hiranandani Group and looks to hire employees in the country
The real estate firm runs data center operations in the country and has entered the consumer services business under Tez Platforms
 4.     Playtika to lay off 250 employees as it closes three development studios
LONDON, LOS ANGELES, AND MONTREAL STUDIOS ARE CLOSING, HELSINKI STUDIO CONSIDERED
Israeli mobile games developer and publisher Playtika has announced worldwide cuts and around 250 employee layoffs, equivalent to roughly six per cent of its workforce, as it prepares to close three development studios
Playtika isn't the only developer closing studios. Nintendo closed offices in California and Toronto late last year, meanwhile indie studio Force of Habit closed last week
5.     The Pokémon Company celebrates a record fiscal year
NET PROFIT INCREASED BY 123%, WITH SALES REACHING US$1.6 BILLION
The firm reported US$1.6 billion in sales for fiscal year 2022, concluding on February 28. This represents an increase of 70% from the previous fiscal year
The reason for this increase in The Pokémon Company's financial data is considered in part to the company's considerable console pipeline during 2021
The Pokémon Company is a private company, which means there are fewer transparency obligations for private businesses like them
However, in Japan, it is not uncommon for such businesses to have their financial information published by the government at yearly intervals
6.     Sony wants around half its games to be on PC and mobile by 2025
WILL ALSO CONTINUE INVESTING IN GAME STUDIOS
Sony plans for roughly half of its game releases to be on PC or mobile by 2025, according to a presentation given during the company's annual investor day
Sony's presentation suggest the company is already reaping the benefits of bringing titles like Horizon Zero Dawn, Days Gone, and God of War to PC, with net sales on the platform more than tripling from $80 million last year to a forecast $300 million in 2022
Sony also plans to have 12 live service franchises operating by 2025, up from one last year, and three this year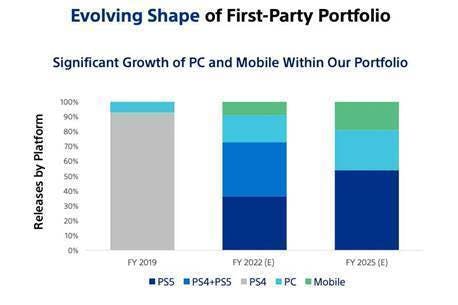 7.     Apple to move parts of iPad production to Vietnam
THE DEVELOPMENT COMES AMID SUPPLY CHAIN DISRUPTIONS DUE TO THE STRICT COVID-19 LOCKDOWNS
China-based manufacturer BYD – one of Apple's top iPad assemblers – has built production lines in Vietnam and will soon produce small quantities of the device in the country
Apple had long considered ramping up iPad production outside of China, but a sharp increase in the number of Covid-19 infections in Vietnam a few months later postponed the plan
The tablet line will become the tech giant's second offering to be produced in Southeast Asia after the AirPods
8.     Korean game industry remains silent on Google's in-app policy & expands cross-play
THIRD PARTY PAYMENT FEE TO GOOGLE IS HIGH AS 26%
In-app payments are already common in the mobile game field, and Google accounts for three-quarters of domestic payments in this field
According to a report by IG Works, as of February this year, Google Play accounted for 73.8% of the three largest app markets operating in Korea, based on payment amount, 14.4% from One Store, and 11.8% from Apple App Store.
Following the Act on Forced Prohibition of In-App Payments in Korea, Google is also supporting in-app payments through third parties, such as credit cards and mobile phone payments, in addition to in-app payments through Google Play.
However, the fee paid to Google is at the level of 26%, and after excluding the fee provided to the PG (electronic payment agency), there is no big difference from the 30% of the Google Play in-app payment
Many game developers are supporting cross-play between mobile & PC and users can use PC to make payments on another payment method
In the case of 'Dungeon & Fighter Mobile', which was released in March, users can use payment services such as Kakao Pay, Payco, and Toss. NPixel's 'Gran Saga' and Line Games' 'Undecember' also offer similar payment methods
9.     Heroes of Crown VNG Official Release
HEROES OF CROWN RELEASED
VNG officially release their new mobile title 'Heroes of Crown VNG' on May 25th , for both android and IOS devices.
Its a hero collection card game with stunning 2D graphic and visual effects and unique idle AFK game experience.
Besides leveling up and upgrade hero equipment, the game have interesting PvP features such as 1vs1, 3vs3, Cross Server Battle and exciting Guild War features.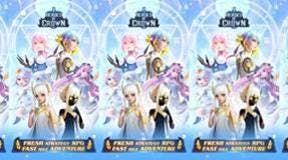 10. Ni No Kuni: Cross Worlds Officially Release
NETMARBLE NEW BIG GAME
Ni No Kuni: Cross Worlds officially release on May 25th , the game was developed by LEVEL 5 and published by Netmarble for both android and IOS.
With beautiful and stunning 3D graphic, good voice over, and adventure based on Ni No Kuni game adaptation, players would enjoy the vast map, main quest and other features.
Other main features in the game is the pet system called Familiar, which we can battle with them in PvE and PvP, also supports our farming system in the game.
[ Metaverse & NFT Games ]
11. Axie Infinity developer names 12 projects for Builders Program 
SELECTED GAMES FROM THE BUILDERS PROGRAM GRANTED A MINIMUM OF $10,000 IN AXS
Sky Mavis, the developer of play-to-earn game Axie Infinity, has announced the 12 projects that have been accepted into its Builders Program that will introduce user-generated content into the Axie ecosystem
The Builders Program aims to reward community developers who help strengthen the Axie Infinity community's ability to create gaming experiences and tools on top of the platform
The selected teams will also be allowed to monetize their game using the intellectual property of Axie Infinity, with a "generous" revenue-sharing model aimed at rewarding builders
12. Square Enix is creating an NFT ecosystem with Animoca Brands 
PARTNERING WITH ANIMOCA BRANDS TO DEVELOP WEB3 PLANS
Square Enix has plans to create a blockchain and NFT ecosystem across a number of its gaming assets within the year
Venture capital firm Animoca Brands is extending its partnership with Square Enix to develop its Web3 plans, following a previous collaboration in February that brought the Dungeon Siege franchise to The Sandbox
Last month, Embracer Group announced its acquisition of Square Enix studios Crystal Dynamics, Square Enix Montréal, and Eidos Montréal, along with studio-related IP such as Tomb Raider